Ullr Festival
| | |
| --- | --- |
| Date: | Thu, Dec 7, 2023 - Sat, Dec 9, 2023 |
| Venue: | Breckenridge |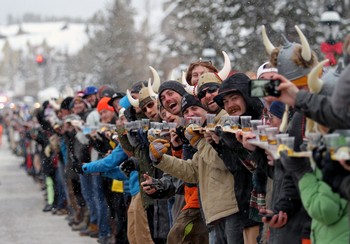 Once upon a time, the Norse winter god, Ullr (OOOL-er), was traveling around the Northern Hemisphere depositing snow, when he happened to find himself in the resort ski town of Breckenridge. Locals were pleased to receive Ullr's gift of snow, and decided to celebrate each year with a weeklong festival paying homage to the Norse god. Festivities include one of the world's wildest parades, a town bonfire, a plunge into the icy waters of Maggie Pond (immediately adjacent to our tasting room), the world's largest shotski, and more. Come welcome winter with a tasting flight at Continental Divide Winery located at the base of Peak 9 in Main Street Station.
THURSDAY HIGHLIGHTS: 3:30pm - Crowning of the Ullr King and Queen (Blue River Plaza); 4:00pm - World's Longest ShotSki® Unofficial World Record Breaking Attempt (Main Street); 4:30pm - Ullr Parade; 5:30pm - Ullr Bonfire (Sawmill Parking Lot).
FRIDAY HIGHLIGHTS: 8:00pm - Ullr Comedy NIght (Riverwalk Center).
SATURDAY HIGHLIGHTS: 12:30pm - Ice Skating Party (Stephen West Ice Arena); 6:00pm - Ice Skating Exhibition & Show (Stephen West Ice Arena).