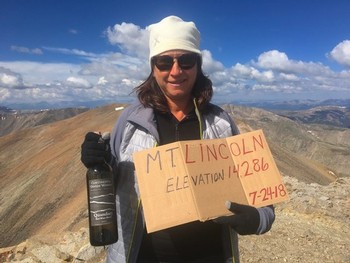 Take the Continental Divide Winery Challenge! Carry a bottle of our wine to the top of any 14er (14,000' elevation peak) and earn a bottle of our delicious Paso Robles Merlot. Just Email us a photo showing you, a bottle of our wine, and a sign documenting the peak, elevation and date you climbed to info@breckwinery.com!
Congratulations to Doug and Kim Brown who summited Colorado's Mt. Lincoln (elevation 14,286) with a bottle of our Quandary red wine blend for the perfect summit celebration!!!!
Winery Photos
Photogallery rendered here.