How to Customize Your Club Shipment


We recognize that everyone has their own unique wine preference and we want you to love every wine you receive. Therefore, members of our 4, 6 and 12 bottle clubs can easily add or modify bottles in your wine club order anytime up until the customization deadline listed in our club release Email.*
STEP 1: EMAIL WITH CLUB ORDER INFO: Approximately one week before we charge for your upcoming wine club order, you will receive an email notification outlining the pre-selected wines, pricing, the ship/pickup date of your current wine club order, and a deadline for customizing your wine club order. If you like the pre-selected wines, you don't need to do anything (although we recommend you check periodically to ensure your shipping address and credit card information are current). If you want to make changes to your order, you can easily customize your order before the indicated cut-off date.
STEP 2: LOG INTO YOUR ACCOUNT TO CUSTOMIZE YOUR ORDER: Go to www.breckwinery.com and log into your account by clicking on "LOG IN" in the upper right hand corner of the homepage. Use the Email you provided when you signed up for the club and enter your password. (If you cannot recall the password, click on the "Forgot Username or Password" link; if you have never created an account click on the "To sign up for an account click here")
STEP 3: GO TO CUSTOMIZATION SCREEN: Once you've logged in, click on the "HELLO [your name}" link in the upper right hand corner of the webpage.



STEP 4: SELECT CLUB LIST: Next, click on "Club List" to display your current club level.

STEP 5: SELECT EDIT CLUB: The screen will now display your club level and a green button labelled "EDIT CLUB". Click the "EDIT CLUB" button to see the wines in your proposed shipment. You can add or subtract bottles, or even add different wines from the list, provided that you order at least the minimum commitment provided under your club level. If you add bottles to your shipment, we will ship the extra bottles at no additional charge and you will automatically receive your club discount on all added bottles.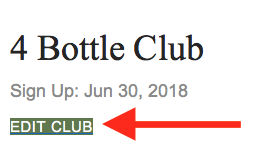 STEP 6: SUBMIT YOUR CUSTOMIZED ORDER: Be sure to click SUBMIT when finished making your changes or additions or the changes will not take effect.

While logged in, we suggest you also check your credit card information to ensure it is current (click "Credit Cards") and address (click "Edit Profile") to ensure you have selected an address where someone over the age of 21 is available to sign for shipments (we recommend using a work address if you are not home during the day).
---

CAN YOU HELP ME CUSTOMIZE MY ORDER? Of course! If you prefer personal assistance in customizing your wine club order, please give us a call at 970-771-3443 or Email our club manager at leanne@breckwinery.com and we will be happy to help.
WHAT IF I DON'T WANT TO MAKE ANY CHANGES TO MY ORDER: No problem! If you are satisfied with the pre-selected wines, you don't need to do anything!
WHAT DOES IT MEAN WHEN A WINE IS LISTED AS HAVING LIMITED AVAILABILITY: We periodically offer our wine club members access to limited release or library wines. If you like these wines, we urge you to order additional bottles quickly as this designation means we anticipate selling out of the wine in the near future. Our wine club computer system does not pull wines from inventory until club shipments are processed and charged. Therefore, on very rare occassions it is possible that more wine club members will add bottles of a limited availabitliy wine than we have bottles available. In these rare circumstances we will satisfy orders on a first come, first served basis meaning we will process bottle additions until we are sold out of the wine. If this occurs to your order, you will be noticied and will not be charged for the additional bottles that have become unavailable. You are always guaranteed to receive at least the minimum allocation number of bottles listed on your wine club selection unless you reduce the number when you customize your order.
Please note that additional wine selections or customization changes must be submitted prior to the date stated in your shipment notification.
* Our Colorado 2 bottle club is designed to allow our local members to experience all of the wines we produce each year. Therefore, members of this club can add bottles to their orders (receiving their club discount for all added bottles), but cannot customize the designated wines.