Bachelorette Party Packages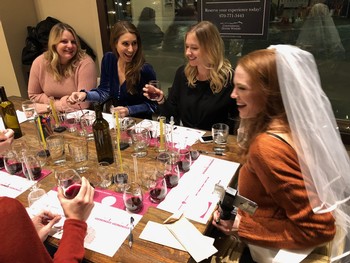 Let our staff at Continental Divide Winery make your Bachelorette Party a day to remember. We offer several special Bachelorette packages. Reserve your event today by calling 970-771-3443.
BACHELORETTE GROUP WINE BLENDING EXPERIENCE
$100 per person (4 person min / 14 person max per session)
Learn the art of wine blending with one of our professional staff using our authentic vintner equipment. Taste four different red wine varietals, then experiment to create your own unique custom wine blend which you will bottle, cork, label and take home as the perfect Bachelorette souvenir. Each participant receives one bottle of their own custom wine blend and one souvenir Continental Divide Winery logo glass, plus the bride will receive one extra bottle created by our staff from the average blend of your entire bachelorette group to enjoy with her bridal party at the wedding. The ultimate group activity. Approximately two hours. Advance reservations required.
RESERVED SEATED TASTING
$40 per person (4 person min / 14 person max)
Taste eight of our award winning wines while comparing differences of the grape varietals from California and Colorado. This tasting experience expresses how soils, climate, and altitude impact the personality of the wine. Price includes a reserved seated* 8 wine tasting experience, a special group chocolate pairing plate, and a souvenir Continental Divide logo wine glass for each participant. Approximately one hour. Advance reservations required.

(From May through October, groups may be seated either inside the tasting room or on our outdoor patio subject to space availability).
BACHELORETTE GROUP TASTING
$30 per person (no minimum / reservations requested for groups of 8 or more please)
Drop in anytime for a Bachelorette Group Tasting at our Tasting Bar. Each participant will enjoy a tasting flight of six Continental Divide wines with a specially paired group chocolate plate. Each participant receives a Continental Divide Winery logo corkscrew as a souvenir of your experience. Reservations requested for groups of 8 or more please.